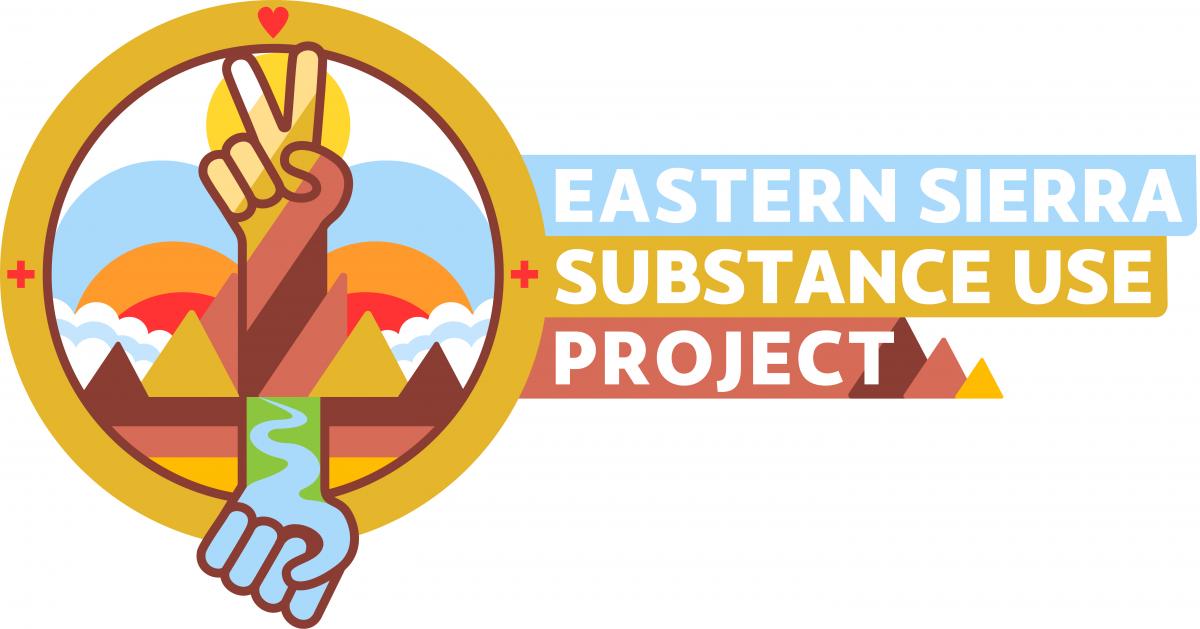 Mission
The Eastern Sierra Substance Use Project is a collaborative gathering of public and private sector community partners with a goal of reducing the adverse effects of harmful substance use. We seek to enhance prevention, treatment and harm reduction services and to reduce stigma.   
Vision
A collaborative and cohesive community group that promotes understanding of substance use as a disease and improving treatment and harm reduction access and strategies.
Values
Promote health and dignity for all.
Check us out on Facebook!
Eastern Sierra Substance Use Project Facebook page [1]
Inyo County's Eastern Sierra Harm Reduction Facebook page [2]
News Release
January 14, 2021: The US Department of Health and Human Services announced that it was removing the requirement of an DATA 2000 X waiver for physicians to prescribe buprenorphine to treat  Opioid Use Disorder, making MAT much more widely available.
HHS announced physicians can treat up to 30 patients with buprenorphine without obtaining a waiver. Details are still being released but briefly:
Only applies to physicians, not PAs or NPs.
Limit of 30 patients
Only treat patients in the same state physician is licensed
Hospital based physicians (ie. Emergency department) have no limit on the number they can prescribe.
See News release [3]
Next Meeting:
September 1, 2021
10-11:30 AM
https://monocounty.zoom.us/j/99627064192 [4]
AGENDA STILL TO COME- EMAIL jcroissant@mono.ca.gov [5] if you have any items to add
Previous Meetings 
Upcoming Live Trainings and outreach events
National Harm Reduction Coalition facilitates trainings around the country. We open our virtual doors to individuals and teams seeking training on important evidence-based harm reduction strategies.
Please email jcroissant@mono.ca.gov [24] if you have any live trainings to share
Recorded or On-Demand Trainings
Part 1: Register [25]to watch the recorded webinar that the National Harm Reduction Coalition. 
Part 2: Register [26] to watch recorded webinar
Don't miss this panel of harm reduction programs discussing access for their participants that want the vaccine and support those that are not ready or do not want the vaccine using a harm reduction approach.
---
LOCAL: Eastern Sierra Substance Use Conference (virtual)
This was an all-day event on December 2, 2020 with 6 speakers, 2 panel sessions (community and professional/community discussion). Topics ranging from MAT, harm reduction, stigma, perinatal substance use, hepatitis and so much more. Event was recorded, see recording link below.
Conference flyer/agenda/panelist info [27]
Facebook Event page [28] 
(FYI: 1 hr break for lunch in middle)
---
The California Institute for Behavioral Health Solutions (CIBHS) hosted an 11-week webinar series with the goal of consolidating learning from the quick transition to behavioral telehealth services in response to the COVID-19 crisis. The webinars teach practical skills to support improvement of behavioral telehealth and are tailored to mental health and substance use disorder providers as well as their supervisors.
https://www.chcf.org/project/cibhs-webinar-series-behavioral-health-prov... [30]
---
This three-part presentation is designed to help you learn Motivational Interviewing and how to apply it in your practice. It discusses the core principles of Motivational Interviewing and provides case studies for practice.
---
https://www.coursera.org/learn/psychological-first-aid [32]     
*Note – the course is free unless you want a certificate ($49 for certificate)
---
Implicit Bias Training

[33]

: UCLA Implicit training resource site. Take an implicit bias test, review recorded implicit bias training videos and other implicit bias training resources. 
---
Local Training:
PDF of PowerPoint from training [35]
General training to review Naloxone, harm reduction measures and information about accessing services. This training is required for staff distributing Naloxone to community members through the Mono County Naloxone Distribution Program.
---
---
---
---
One of many talks at the Agents of Change Summit 2020
---
---
---
Canadian physician Gabor Maté is a specialist in terminal illnesses, chemical dependents, and HIV positive patients. Dr. Maté is a renowned author of books and columnist known for his knowledge about attention deficit disorder, stress, chronic illness and parental relations. His theme at TEDxRio+20 was addiction, from drugs to power. From the lack of love to the desire to escape oneself, from susceptibility of the being to interior power -- nothing escapes. And he risks a generic and generous prescription: "Find your nature and be nice to yourself.
Recommended Articles
New Evidence on Substance Use Disorders and COVID-19 Susceptibility (NIH article) [43]
PROTECTING YOURSELF AND YOUR PATIENTS FROM IMPLICIT BIASES
By Michelle van Ryn, PhD, MPH [44]
 
The Role of Vitamin E Oil in Causing Vaping Related Severe Lung Illness [45]
Multi Criteria Decision Analysis for Evaluating Government Policy Responses to Heroin Use [46]
Medical cannabis dependence: A critical review of issues and evidence [47]
Online curriculums/CEU opportunities
Specific to Providers/Nurses/first responders:
Chronic Pain Core Curriculum  [49]
Performance-in-Practice (PIP): Improving Clinical Practice with Patients who have Opioid Use Disorder (OUD) [50]
ACA and Addiction Treatment and Recovery: What Every Addiction Professional Needs to Know [51]
First Responder Course: Creating Safe Scenes (specific to Mental illness/substance use)  [52]
Substance use pocket guide screening for nurses [53]
The Acute Care Nurse's Role in Harm Reduction for Persons with Substance Use Disorder (SUD) [54]- 0.25 CEU, free
Substance Use Disorders and Co-Occurring Disorders: Essential Curricular Thread for Nursing Education [55]- 0.25 CEU, free
Local Resources 
Naloxone (Narcan) for Opioid Overdose [56]
Mono County Behavioral Health Provider Directory [57]
Mono County Behavioral Health Webpage [58]
Mammoth Hospital Behavioral Health Resources [59]
Toiyabe Indian Health Center Substance Abuse Treatment page [60]
Mono County Community Resources Pamphlet (English/Spanish) [61]
New! Mono County Resource Book [62]
Mono County Cannabis Health Education [63]
Mono County Tobacco Education Program [64]
Archived Online Trainings and Resources
Alcohol Use
Alcoholics Anonymous and Narcotics Anonymous Meetings [65]
Perinatal Substance Use Prevention [66]
Drink Less for Your Breasts [67]
Study: No safe level of alcohol consumption for brain health: observational cohort study of 25,378 UK Biobank participants [68]
ACE's (Adverse Childhood Experiences) 
NEW: Coping with Stress During the COVID-19 Pandemic (one page handout) [69]
ACE's Aware : The ACEs Aware initiative offers Medi-Cal providers training, clinical protocols, and payment for screening children and adults for ACEs. The two-hour online curriculum is easy to access for a wide range of health care professionals and will provide Continuing Medical Education (CME) and Maintenance of Certification (MOC) credits. [70]
​​​​​​​​California Department of Health Care Services resources: Trauma Screenings and Trauma-Informed Care Provider Trainings [71]
ACE's Online Learning: Early Trauma Online Learning Course for Practitioners, professionals and volunteers who work with children, young people and their families. [72]
Adverse childhood experiences: What we know, what we don't know, and what should happen next [73]
Cannabis
Cannabis among youth: awareness and prevention [74]- video recorded training (1hr 30min)
Cannabis Awareness & Prevention Toolkit [75]
Harm Reduction
PRINCIPLES OF HARM REDUCTION (Video) [76]: Harm reduction is a set of practical strategies and ideas aimed at reducing negative consequences associated with drug use. Harm Reduction is also a movement for social justice built on a belief in, and respect for, the rights of people who use drugs 
Training Guide-Spirit of Harm Reduction: A Toolkit for communities of Faith Facing Overdose [77]
Harm Reduction Is Not A Metaphor, Living in the 21st Century with Drugs, Intimacy, and Activism [78]
MENTAL HEALTH
Mental Health Screening Tools [79]
OPIOID USE
Opioid Overdose Resource page [56]
Training for RN/APRN's: Effective Treatments for Opioid Use Disorders [80]
Medication Assisted Treatment introduction for all and MAT waiver training (different online curriculums for MDs, RNs, and MAs) [81]
Perinatal
FACTSHEET - Substance Use and Pregnancy During COVID-19/El Uso de Sustancias y el Embarazo Durante COVID-19/Uso de Substâncias e a Gravidez Durante COVID-19 [83]
Tobacco
The Vaping Phenomenon - What It Is, Why It Happened, and What We Can Do About It (Webinar video from Stanford's Health Improvement Program) [84]
APNA Nursing Competencies for Treating Tobacco Use Disorders [85]
TOBACCO & NICOTINE USE SCREENING TOOLS & ASSESSMENTS [86]
Self Care 
Mindful Minute Cards [89]
Stigma
Social Stigma Toward Persons With Prescription Opioid Use Disorder: Associations With Public Support for Punitive and Public Health–Oriented Policies [90]
Spirituality/Faith based harm reduction
Spirit of Harm Reduction: A Conversation with Toolkit Contributors [91]
Liberatory Love: A Human Rights Day Ritual Experience with People Who Use Drugs [92]
Click any thumbnail image to view a slideshow